I have a couple of things to share with you all today....
Firstly TAKE A LOOK
HERE
!!!
I can't believe they selected me to be part of this awesome Design Team...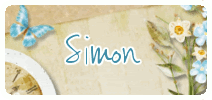 I KNOW!!!
Simon Says Stamp and Show
looks to be a very exciting, inspiring Challenge blog... The Style here is inspired by the likes of Tim Holtz, Wendy Vecchi, 7 Gypsies and Graphic 45 - among many other Vintage enthusiasts. The awesome international team is being announced over the next few days!
So why not pop by every Monday as there will be a wonderful new Challenge and you can win some really fantastic prizes.....
Tee hee check out my vintage shot, don't you just love the collars ha ha ha? Thank you Simon Says Team... I can't wait!!!
So, tomorrow will see the new September issue of Craft Stamper Magazine on sale and full of wonderful projects... I did a project using perfect pearls... now this was the last in the 'three ways with' series, so this month it is a special bonus feature on their Web site... Which is fantastic... this means that everyone can
pop over
had have a nosey, WOO HOO! So much good news this week I'm all over the place in fact I would have posted this sooner but I have my crafty head on making art for the launch of
Simon Says Stamp and Show challenge
on Monday!!!
Thank you so much for stopping by, Pop back Saturday for my Basic Grey Challenges make, see you then!!! BiG HuGs Kim :)